May, 3rd, 2021
💛My new song is "The Mane of Courage / Yuhki no Tategami".
This song was written for my two real female friends in my mind.
I wrote the lyrics to encourage them.
Then, I wrote a beautiful melody as a ballad song that gently snuggles up to their sadness and negative emotions.
In other words, this song wasn't the song I wanted to sing.
Like them/my friends, I want to encourage the hearts of "people who are in sadness right now," and I want to be close to them, so I sing with my own singing voice.
I created this song "The Mane of Courage" with the intention of making a song about the thoughts of the person who listens to it.
I will paste the lyrics as an image.
(Music copyright and neighboring rights are all owned by me personally)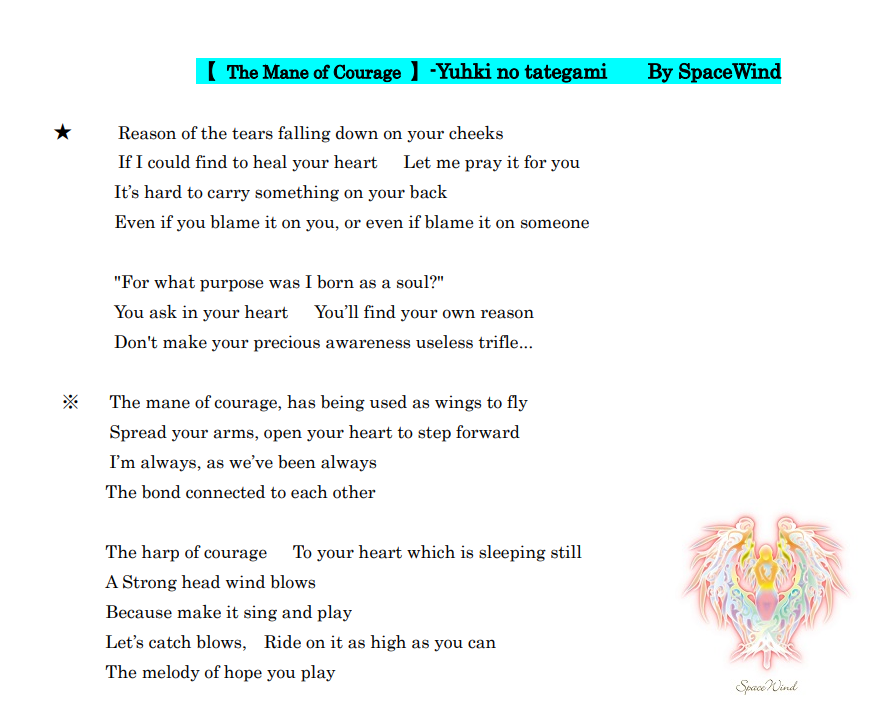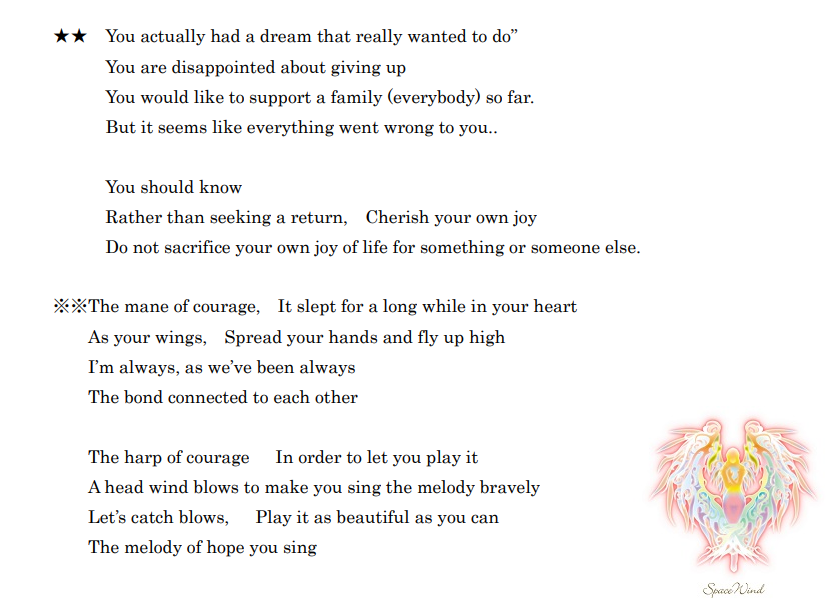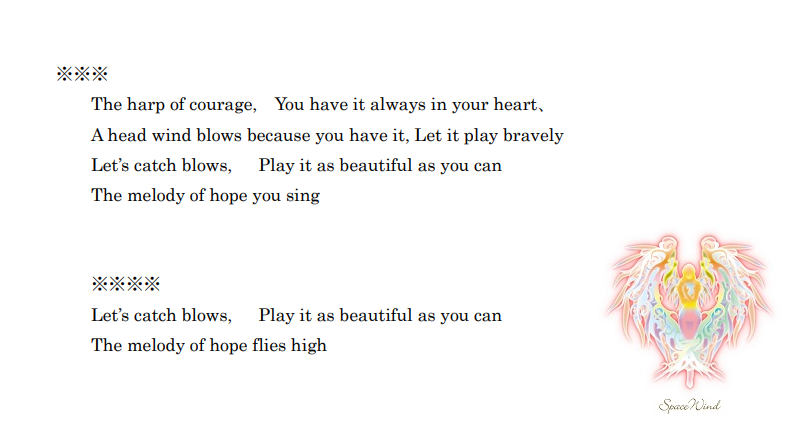 Not all people in the world are at the height of happiness at this moment.
I give the words "Congratulations!" to happy people.
For those who are in sadness, I give them the words, "I'm close to you in the form of music."
Now, some people are saddened by the sudden death of their loved ones and loved family member.
Some people are under the stress of taking care of their family, taking a break from what they want to do or their personal career.
Two of my real friends were in such sadness when I recorded this song "The Mane of Courage".
One day, one of my friend lost her beloved fiancée who suddenly collapsed during a company meeting.
Another friend of mine is working hard to care for her mother and sister under the heavy stress
What can I do for them as a friend?
What can I do?
That's why I believe that music has power, songs have power, and value.
I will explain the content of the lyrics with motifs.

~~~
At the deep inside of everyone's heart, a lyre that plays emotions and passions exists.
Each lyre plays a happy melody when he/she is happy, a fun melody when he/she is fun, and a passionate melody when he/she is passionate.
Sometimes a lyre plays a sad melody when he/she is sad, a lonely melody when he/she is lonely, a sad melody, or a melody with a sense of loss.
When he/she is tired and wants to take a rest, he/she sometimes sleep without playing anything.
When one feels great sadness or loss, one becomes emotionless for a moment.
If the pain is too great, the pain will cover your emotions.
In fact, if you cover your negative emotions, you will not feel any positive emotions either.
The wind blows when a person who is in some great sadness or loss now begins to regain the power to live.
The wind that blows toward the silent lyre that remains asleep in your heart.
In response to the wind, when taking a step with courage, the sleeping lyre begins to play the melody of courage.
When receiving a headwind, a person flutters for a moment.
But that wind will start playing the melody with courage, which is the power of your heart.
Your long hair and mane should flutter proudly in the wind.
Receiving the wind, receiving your own melody, the melody of the hope echoes high in the sky.
~~~

Life is contrast.
There is sadness because there is joy.
And because of sadness, you can feel more joy.
Like music, the contrasts of strength, size, speed and slow complement each other.
Even if you take the courage to take a step with dreams and hopes, it may not work on the way.
You may be hurt by someone telling you something terrible.
I wish if I could encourage you with my song.
I would be very happy if this song, "The Mane of Courage / Yuhki No Tategami" could be encouraging the hearts of all such people.
It is said that the darkest before dawn.
And it will surely be dawn.
The time will come when the sun and sunshine will warm the hearts of each and every one of us.
Please, without letting anyone take away your dignity.
I pray that the song that illuminates a ray of light is "The Mane of Courage" in the hearts of such people.
I hope someday, in some country, I will be able to sing at a concert with all of you together.
Thank you for reading to the end.
Spacewind aka Spe-chan = SpaceWind
💛新曲は『勇氣のたてがみ』という曲です。
この曲は、私の実在の女友達2人のことを思って書き上げた曲なんです。
彼女たちを励ましたいと思って書いた歌詞です。
そして、彼女たちの悲しみやネガティブな心の思いにそっと寄り添えるような美しいメロディーを、バラード曲として書き上げました。
つまり、この曲は、私が歌いたい曲を書いたのではないのです。
彼女たちと同じように、「今、悲しみを抱えている人」の心を励ましたくて、寄り添いたくて、私の歌声で歌っています。
聴いてくれる人/相手の思いを歌にしようと志して、創作しました。
歌詞を画像で貼りつけますね。
(音楽著作権も、音楽著作隣接権も、すべて私個人が所有しています)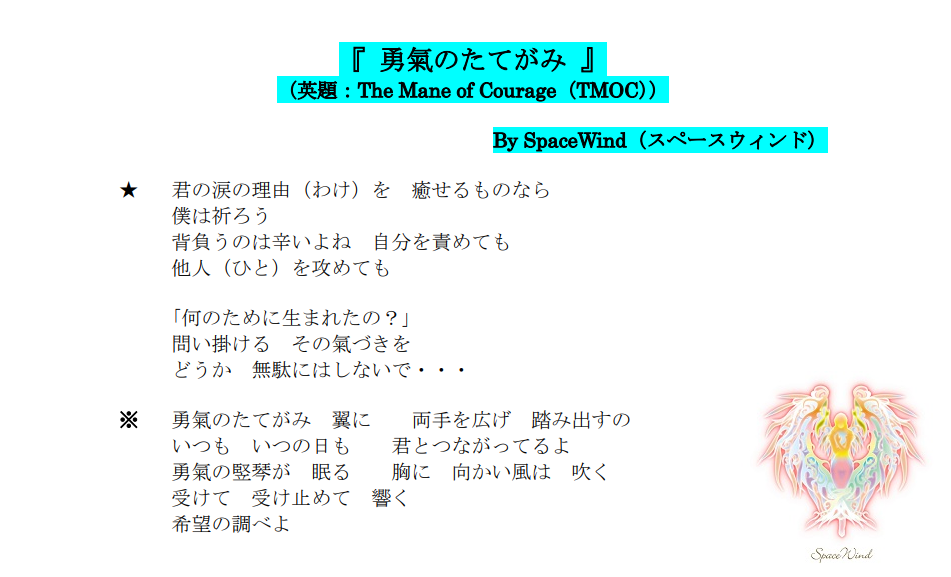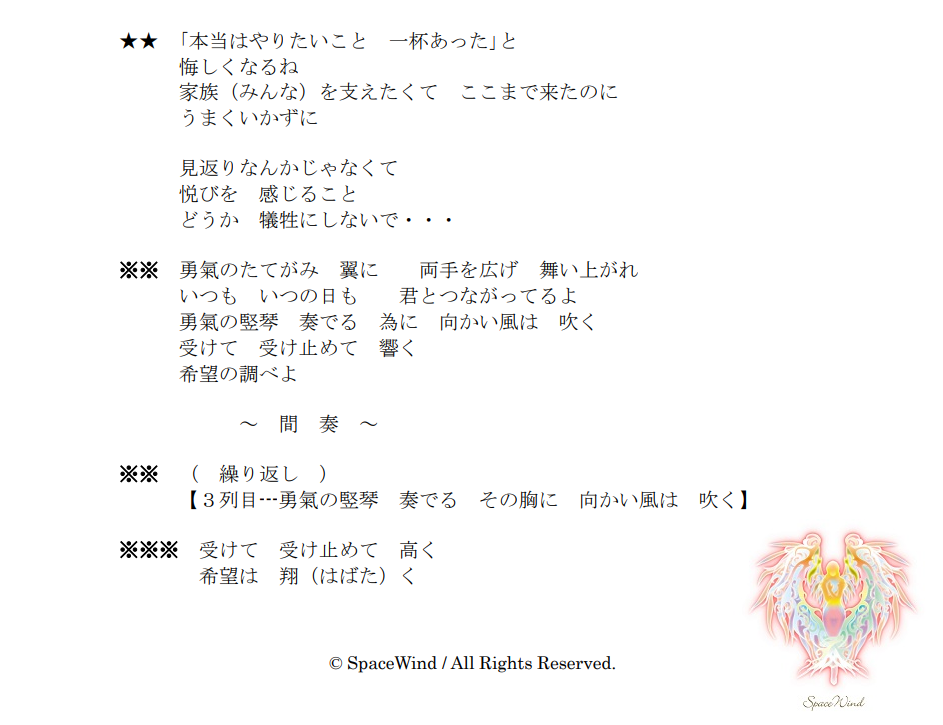 世界中の人たち全員が、今この瞬間に、幸せの絶頂にいるわけではないですよね。
幸せな人には、「おめでとう!」という言葉を贈ります。
悲しみの中にいる人には、「音楽という形で私があなたのそばに寄り添っているよ」という言葉を贈ります。
今、最愛の人や大切な家族との突然の死別に悲しんでいる人がいます。
家族の誰かの介護のために、自分個人のやりたいことを一時的にはあきらめて、看病している人もいます。
私の実在の友人2人は、まさにそんな悲しみの中にいます。
ある日突然、会社の会議中に倒れて、最愛の婚約者を失ってしまった友人A。
母と妹のケアのために、自分がパニック障害になりながらも、一生懸命に仕事をしている友人B。
友人として、私が彼女たちに、何をしてあげられるだろうか。
私に何ができるだろうか?
だからこそ、音楽には力がある、歌には力がある、存在価値があると、私は信じています。
歌詞の内容を、モチーフで解説しますね。

~~~
個人個人の胸の奥には、感情や情熱などの想いを奏でる竪琴があります。
各自の竪琴は、嬉しい時には嬉しいメロディーを、楽しい時には楽しいメロディーを、情熱的な時には情熱的なメロディーを奏でています。
悲しい時には悲しいメロディーを、寂しい時には寂しいメロディーを、切ないメロディーや、喪失感のメロディーを奏でることもあります。
疲れて、休みたいときには、何も奏でずに眠っていることもあります。
大きな悲しみや喪失感を抱くとき、人は一瞬、無感情になります。
痛みが大きすぎると、痛みで感情に蓋をしてしまうのです。
実は、ネガティブな感情に蓋をしてしまうと、ポジティブな感情も感じられなくなっていきます。
今、何らかの大きな悲しみや、喪失感の中にいる人が、やがて生きる力を取り戻し始めるとき、風が吹いてきます。
あなたの胸の奥に眠ったままでいる、無音の竪琴に向けて吹いてくる風。
その風を受けて、勇氣を出して一歩を踏み出すとき、眠っていた竪琴は、勇氣のメロディーを奏で始めます。
向かい風を受けるとき、人は一瞬ひるみます。
でも、その風があなたの心の力である、勇氣を連れてメロディーを奏で始めます。
あなたの長い髪や、たてがみも、風を受けて誇らかにたなびくはずです。
風を受けて、受け止めて、高く、希望のメロディーは大空へはばたき、響き渡ります。
~~~

人生はコントラスト。
喜びがあるから悲しみがある。
そして、悲しみがあるからこそ、より喜びを大きく感じられますよね。
音楽と同じで、強弱、大小、速い遅い、というコントラストがお互いを引き立てあっています。
夢や希望を抱いて、勇気を出して1歩を踏み出しても、進む途中ではうまくいかないこともあります。
誰かにひどいことを言われて傷つくこともあるでしょう。
そんなすべての人の心に、この『勇氣のたてがみ』という曲が寄り添って励ますことができたら、私はとても嬉しいです。
夜明け前が、一番暗いといいます。
そして、必ず夜は明けます。
太陽の光と日差しが、一人一人の心を温めてくれるときが来ます。
どうぞ、あなたの尊厳を誰にも奪わせずに、
そんな人たちの心に、一筋の光を灯す曲が『勇氣のたてがみ』であることを、祈っています。
いつか、どこかの国で、あなたと一緒にコンサートで歌える日が来ることを、祈っています。
最後までお読みいただき、ありがとうございます。
スペースウィンド こと スぺちゃん=SpaceWind
2021. 5. 3.